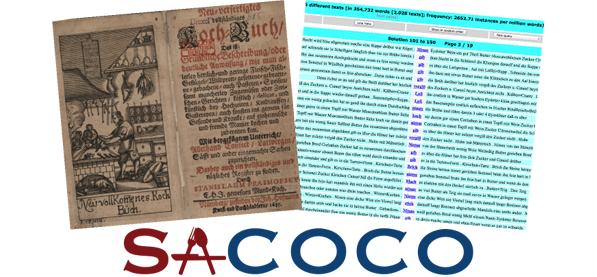 This tutorial will show you step-by-step how to use the CLARIN-D infrastructure to compile a diachronic corpus of German cooking recipes. Afterwards, you will learn how to exploit this resource to discover how the conative function has evolved in this register during the last centuries.
In order to reproduce this showcase successfully, you will need to satisfy the following requirements:
a Mac, Linux or Windows operating system (tested on Mac OS X, Linux Ubuntu)
7z
Python 3, and some packages (pip3 install -r requirements.txt)

lxml
pandas
regex
requests

R, and some packages
internet connection
You also need the materials. Go to our GitHub repo and clone it.
Ready? Steady! Go!
Corpus compilation
A corpus is a collection of texts in electronic format. We distinguish three main steps in the process of compiling an electronic corpus:
data acquisition and preprocessing
linguistic annotation with WebLicht
corpus encoding for CQPweb
We have two different sources of data:
The historical recipes were transcribed and digitised manually by Andrea Wurm. We complemented this data set with some transcriptions done by Gloning et al.. In parallel, we obtained a set of contemporary recipes from a wiki site devoted to cooking recipes kochwiki.org. Luckily, a XML dump of this site is available at the Internet Archive.
Due to the different nature of our historical and contemporary datasets, the corpus compilation methodology, although following a similar outline, is slightly different.
Corpus exploitation
Our diachronic corpus of cooking recipes in German is now ready to be used. We will proceed as follows:
We will pose our research question.
We will design the operationalisation of this research question.
We will actually extract the features with CQPweb.
We will visualize and analyse the data with CQPweb/R.
If you want to reproduce every step that we will show you below, you will need to become a user for our CQPweb installation.
Go to this URL to create a new account. Follow the instructions, and you will have access to SaCoCo in a few minutes.
Research question
Has the realisation of the conative function evolved over time in the cooking recipe register?
Our hypothesis is:
Contemporary cooking recipes show lower linguistic means to address the reader directly than historical ones.
Wurm already discovered that historical texts showed differences in the way the author addressed the reader.
Operationalisation
In research design, […] operationalization is a process of defining the measurement of a phenomenon that is not directly measurable, though its existence is indicated by other phenomena.
We know that German can use different means to convey the conative function. Among them we can trace pronominal and verbal cues:
pronominal

second person personal pronouns (direct)
indefinite pronouns (indirect)

verbal

imperatives (direct)
infinitives (indirect)
Of course, there are more features that could help us to describe this phenomenon better. Can you think of them? How would you operationalise them? Contributions to extend this tutorial are welcome!!!
The next step is to design how we can retrieve these features in a systematic and effective way making use of the linguistic annotation that we have added with WebLicht.
Basically, we will quantify how many instances of these features can be found per text. First, we need to find the instances, then, we will count them. And, finally, we will describe the results and check if the historical recipes significantly differ from their contemporary counterparts.
Personal pronouns
Second person pronouns are a pronominal indicator of the writer's overt intentions to engage directly with the reader.
irreflexives Personalpronomen
substituirendes Possessivpronomen
attribuirendes Possessivpronomen
reflexives Personalpronomen
Indefinite pronouns
Indefinite pronouns like man, jemand, etc. are a pronominal resource that writers can use to avoid addressing the reader directly, but still use active voice forms.
substituierendes Indefinitpronomen
Imperatives
The imperative is a verbal device that addresses the reader directly; it is an order.
Infinitives
The usage of infinitives is a strategy to convey verbal instructions without using the imperative in a more impersonal fashion.
Exploration and visualization
CQPweb
Now, let's get on with it!
First, you will need access to our CQPweb installation.
Choose the corpus: in our case SaCoCo
Run a query, e.g. combining the queries for personal pronouns second person
(

[

lemma=

"du"

 

&

 

pos=

"PPER"

] 

|

 [

word=

"[d|t]h?u"

 

%c

]

)




|


[

word=

".+[t|d]h?u"

 

%c

]


|


[

lemma=

"ihr"

 

&

 

pos=

"PPER"

]
The headline above the concordance gives you information on your query, the number of hits, in how many different texts the hits occur, etc.
You can now explore the results more closely:
Click on one of the instances to get more context.
Click on the text ID at the beginning of each concordance line to get information about the text.
Use the powerful post-processing of CQPweb, which is available as a drop-down-menu in the upper right corner:
Choose "Frequency breakdown" and click "Go" to get a frequency list of your query.
or Choose "Distribution" and click "Go" to get a distribution of the query results across the subcorpora, in our case, the development over time,
either as "distribution table"
or as "bar chart".
R
So, in the last section we have seen how to use CQPweb to test our queries, improved them, and also save the results.
For reproducibility purposes, and to speed up the process, you can also interact with CQP from the command line.
If you managed to encode the corpus, you can extract all four features (2n person personal pronouns, indefinite pronouns, imperatives, infinitives) with a sacoco.cqp.
# create a directory to save the results




mkdir

 -p results/


# run the cqp script to get all the extractions




cqp

 -c 

<

 sacoco.cqp
In CQPweb we can see the result of a query at a time. But what if we want to get different representations?
Well, then you can use R for that. Let's describe very briefly our corpus and the results.
Corpus description
We will read the results/meta.csv which is a table where each row is a text, and the columns are from left to right: text ID, collection, period, decade, year, source.
# import library to format output




library

(knitr)


# read metadata


data =

 

read.csv

(

'results/meta.csv'

, 

sep =

 

'

\t

'

,  

encoding =

 

'utf-8'

, 

header =

 F, 

strip.white =

 T)


# rename columns




names

(data) =

 

c

(

'text_id'

,

'collection'

,

'period'

,

'decade'

,

'year'

,

'source'

)


# as factors


data$collection =

 

as.factor

(data$collection)
data$period =

 

as.factor

(data$period)
data$decade =

 

as.factor

(data$decade)
data$year =

 

as.factor

(data$year)
data$source =

 

as.factor

(data$source)


# print summary




summary

(data)
##          text_id            collection    period         decade    
##  buchinger_1 :   1   contemporary:2033   1550:  63   2010   :2028  
##  buchinger_10:   1   historical  : 434   1600:  90   1680   :  64  
##  buchinger_11:   1                       1650: 154   1670   :  60  
##  buchinger_12:   1                       1700: 120   1700   :  60  
##  buchinger_13:   1                       1750:   3   1570   :  33  
##  buchinger_14:   1                       1800:   4   1560   :  30  
##  (Other)     :2461                       2000:2033   (Other): 192  
##       year                        source    
##  2013   :859   wiki                  :2033  
##  2014   :776   KochvndKellermeisterey:  33  
##  2011   :183   Thieme                :  31  
##  2012   :168   Buchinger             :  30  
##  2010   : 42   Colerus               :  30  
##  1574   : 33   Danckwerth            :  30  
##  (Other):406   (Other)               : 280
Then we read the table for the number of tokens:
# import library to manipulate tables




library

(dplyr)


# we write a function to read CQP output


cqpReader =

 

function(filename, feature, data){
  

# read file


  df =

 

read.csv

(filename, 

sep =

 

'

\t

'

, 

encoding =

 

'utf-8'

, 

header =

 F, 

strip.white =

 T)
  

# count the number of hits per text


  df =

 

group_by

(df, V1) %>%

 

summarise

(

feature =

 

n

())
  

# rename first column


  

names

(df) =

 

c

(

'text_id'

,feature)
  

# merge with the original table


  data =

 

merge

(data,df,

'text_id'

,

sort=

T, 

all=

T)
}



# read tokens


data =

 

cqpReader

(

'results/tokens.csv'

, 

'tokens'

, data)
data[

is.na

(data)] =

 

0
Then, we get an overview of the size of our corpus by collection:
texts_and_tokens_x_collection =

 

group_by

(data, collection) %>%

 

summarise

(

texts =

 

n

(), 

tokens =

 

sum

(tokens))


kable

(texts_and_tokens_x_collection, 

align =

 

'l'

)
| | | |
| --- | --- | --- |
| contemporary | 2033 | 388956 |
| historical | 434 | 42705 |
By period:
texts_and_tokens_x_period =

 

group_by

(data, period) %>%

 

summarise

(

texts =

 

n

(), 

tokens =

 

sum

(tokens))


kable

(texts_and_tokens_x_period, 

align =

 

'l'

)
| | | |
| --- | --- | --- |
| 1550 | 63 | 6016 |
| 1600 | 90 | 8806 |
| 1650 | 154 | 14708 |
| 1700 | 120 | 12154 |
| 1750 | 3 | 655 |
| 1800 | 4 | 366 |
| 2000 | 2033 | 388956 |
By decade:
texts_and_tokens_x_decade =

 

group_by

(data, decade) %>%

 

summarise

(

texts =

 

n

(), 

tokens =

 

sum

(tokens))


kable

(texts_and_tokens_x_decade, 

align =

 

'l'

)
| | | |
| --- | --- | --- |
| 1560 | 30 | 3223 |
| 1570 | 33 | 2793 |
| 1600 | 30 | 3703 |
| 1610 | 30 | 3689 |
| 1640 | 30 | 1414 |
| 1670 | 60 | 6579 |
| 1680 | 64 | 4647 |
| 1690 | 30 | 3482 |
| 1700 | 60 | 2925 |
| 1710 | 30 | 6511 |
| 1720 | 30 | 2718 |
| 1780 | 3 | 655 |
| 1800 | 4 | 366 |
| 2000 | 5 | 633 |
| 2010 | 2028 | 388323 |
Results
We read the file for the personal pronouns:
# read personal pronouns


data =

 

cqpReader

(

'results/pers2.csv'

, 

'pers2'

, data)


# set NA cells to 0


data[

is.na

(data)] =

 

0
We can know check visually the differences between contemporary and historical recipes grouping the results by period. You probably have seen that samples are not equal in size. For this reason, we also calculated the relative frequency for each group:
# load ggplot2 library to plot graphs




library

(ggplot2)


# calculate the relative frequency for pers2


data.rel =

 

group_by

(data, period) %>%

 

transform

(

pers2.rel =

 (pers2/tokens)*

1000

 )


# plot lines binding means




ggplot

(

data=

data.rel, 

aes

(

x=

period, 

y=

pers2.rel, 

group=

period)) +


  

stat_summary

(

fun.y=

mean, 

geom=

"line"

, 

linetype =

 

"dotted"

, 

aes

(

group =

 

1

)) +


  

stat_summary

(

fun.y=

mean, 

geom=

"point"

, 

size =

 

3

, 

aes

(

shape =

 collection, 

colour =

 collection)) +


  

theme_bw

() +


  

theme

(

legend.position=

"bottom"

)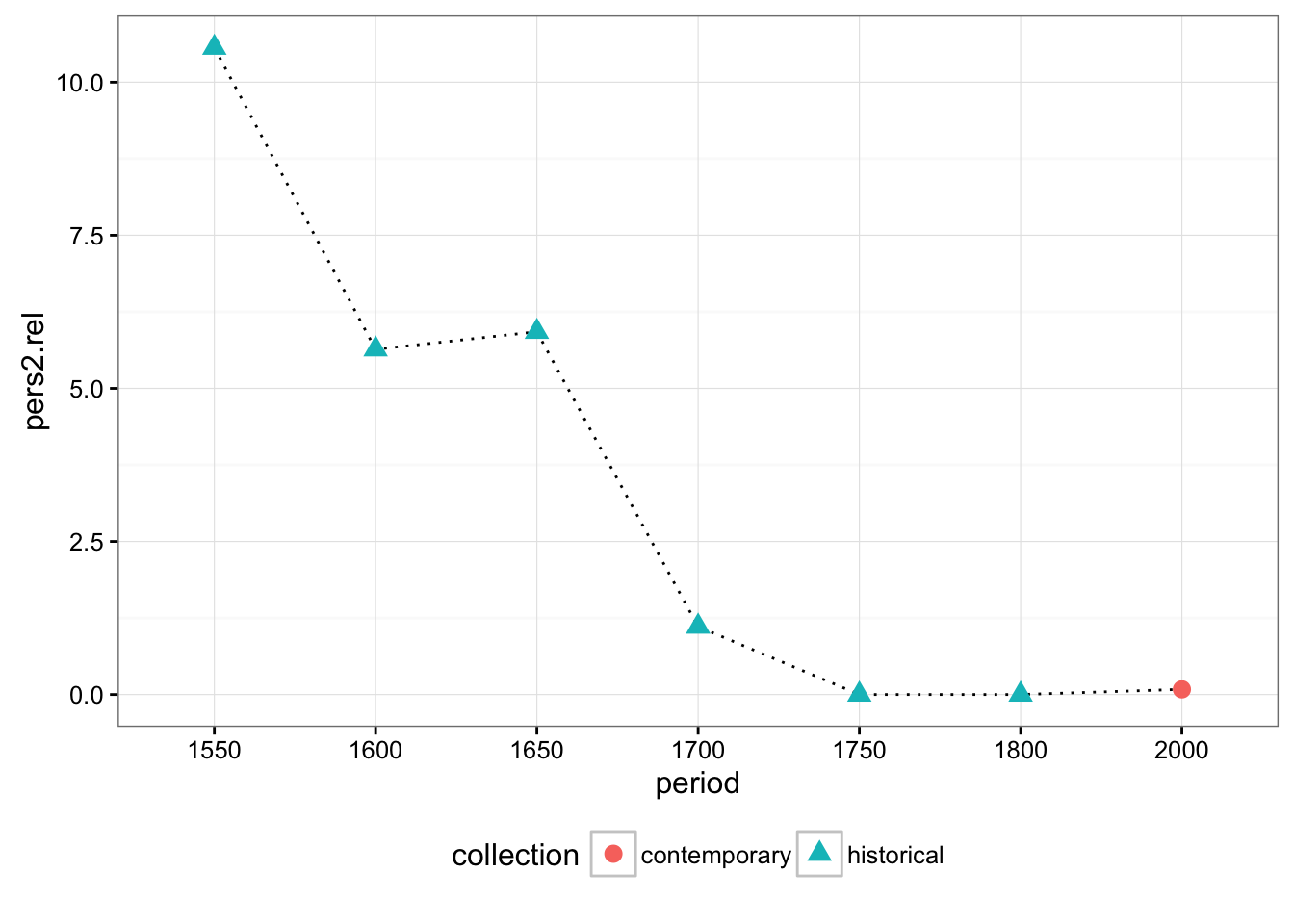 We repeat the same procedure for indefinite pronouns:
# read indefinite pronouns


data =

 

cqpReader

(

'results/pisp.csv'

, 

'pisp'

, data)
data[

is.na

(data)] =

 

0


data.rel =

 

group_by

(data, period) %>%

 

transform

(

pisp.rel =

 (pisp/tokens)*

1000

 )


ggplot

(

data=

data.rel, 

aes

(

x=

period, 

y=

pisp.rel, 

group=

period)) +


  

stat_summary

(

fun.y=

mean, 

geom=

"line"

, 

linetype =

 

"dotted"

, 

aes

(

group =

 

1

)) +


  

stat_summary

(

fun.y=

mean, 

geom=

"point"

, 

size =

 

3

, 

aes

(

shape =

 collection, 

colour =

 collection)) +


  

theme_bw

() +


  

theme

(

legend.position=

"bottom"

)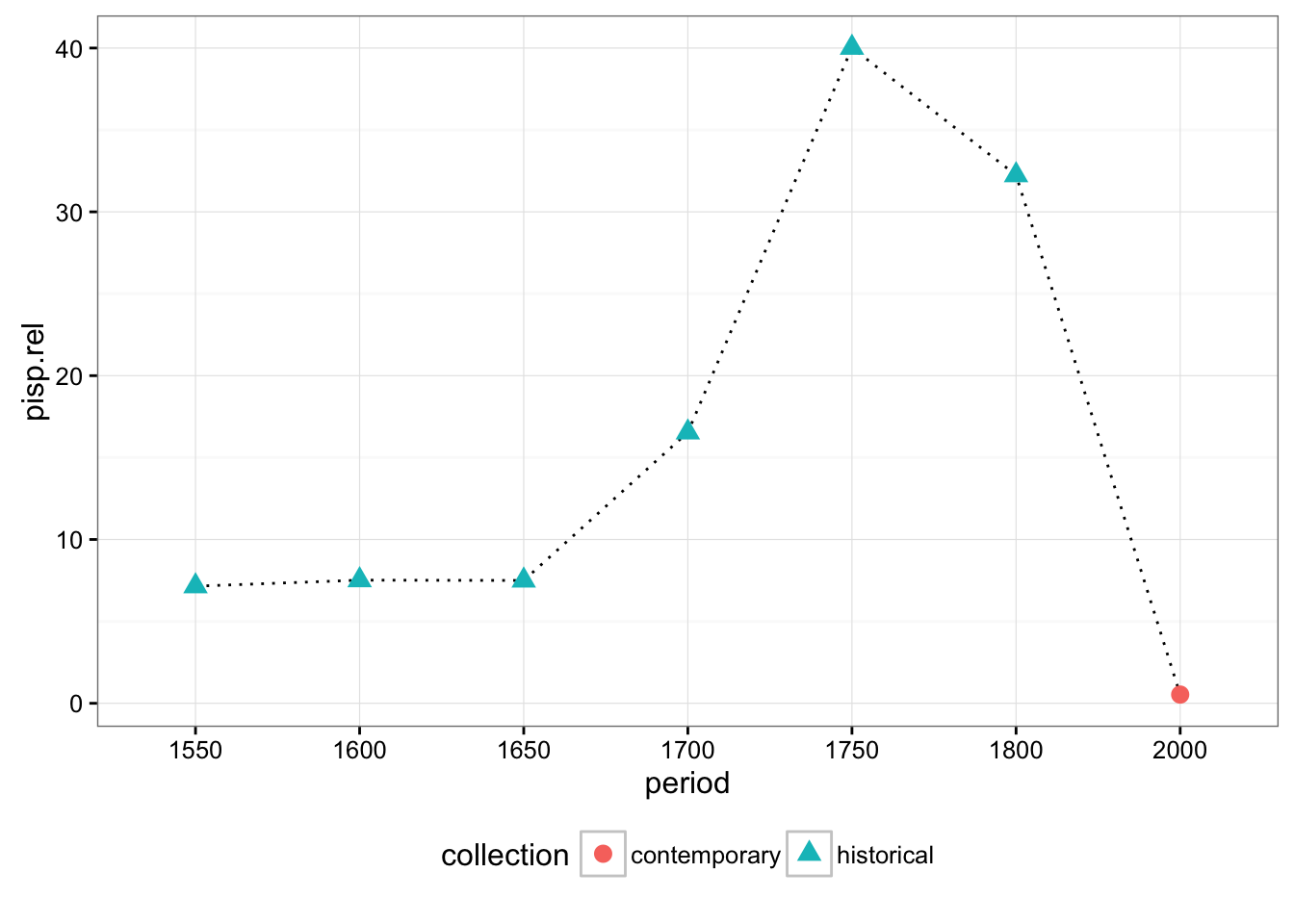 Imperatives:
# read imperatives


data =

 

cqpReader

(

'results/vfimp.csv'

, 

'vfimp'

, data)
data[

is.na

(data)] =

 

0


data.rel =

 

group_by

(data, period) %>%

 

transform

(

vfimp.rel =

 (vfimp/tokens)*

1000

 )


ggplot

(

data=

data.rel, 

aes

(

x=

period, 

y=

vfimp.rel, 

group=

period)) +


  

stat_summary

(

fun.y=

mean, 

geom=

"line"

, 

linetype =

 

"dotted"

, 

aes

(

group =

 

1

)) +


  

stat_summary

(

fun.y=

mean, 

geom=

"point"

, 

size =

 

3

, 

aes

(

shape =

 collection, 

colour =

 collection)) +


  

theme_bw

() +


  

theme

(

legend.position=

"bottom"

)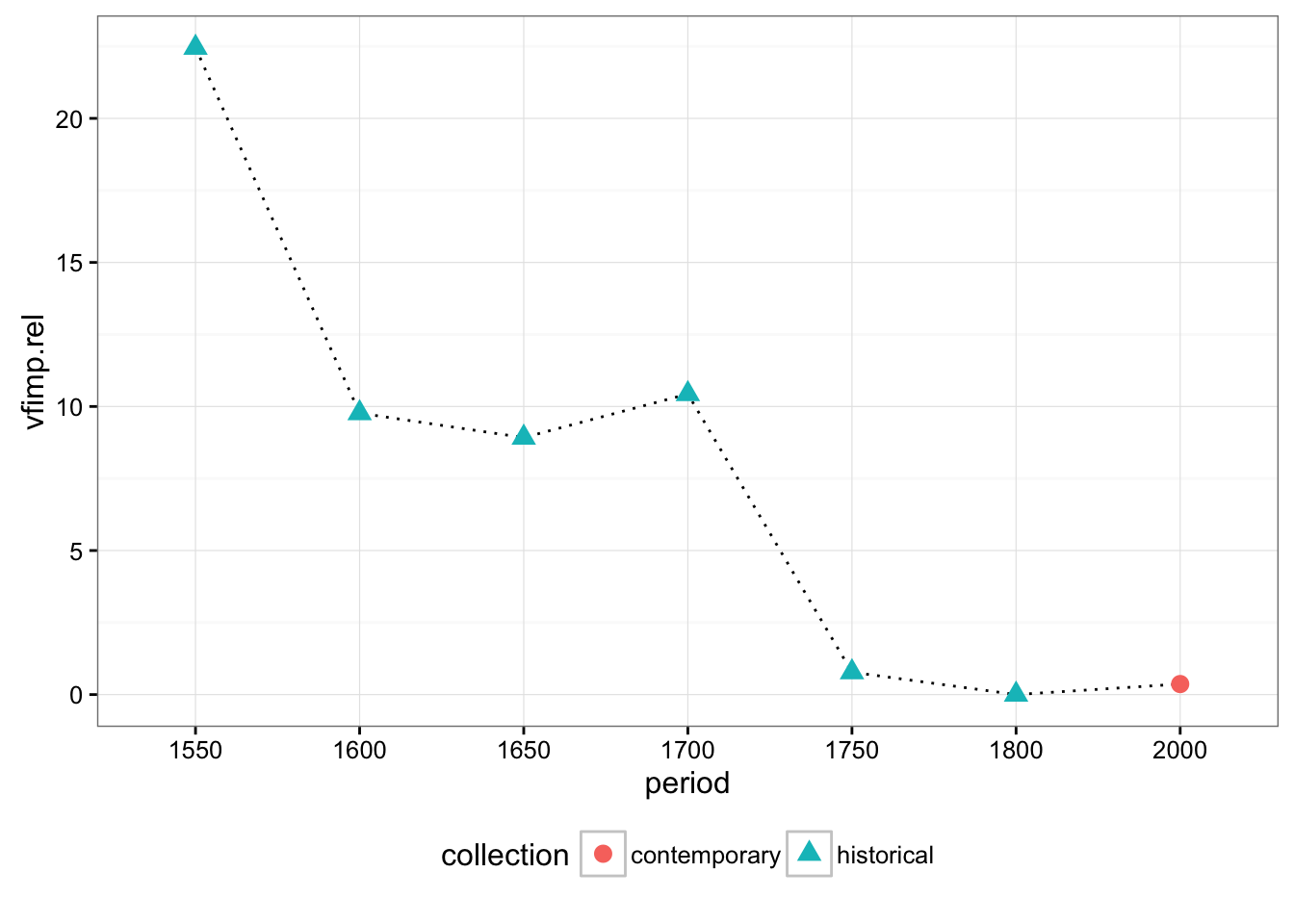 And infinitives:
# read infinitives


data =

 

cqpReader

(

'results/vfinf.csv'

, 

'vfinf'

, data)
data[

is.na

(data)] =

 

0


data.rel =

 

group_by

(data, period) %>%

 

transform

(

vfinf.rel =

 (vfinf/tokens)*

1000

 )


ggplot

(

data=

data.rel, 

aes

(

x=

period, 

y=

vfinf.rel, 

group=

period)) +


  

stat_summary

(

fun.y=

mean, 

geom=

"line"

, 

linetype =

 

"dotted"

, 

aes

(

group =

 

1

)) +


  

stat_summary

(

fun.y=

mean, 

geom=

"point"

, 

size =

 

3

, 

aes

(

shape =

 collection, 

colour =

 collection)) +


  

theme_bw

() +


  

theme

(

legend.position=

"bottom"

)
Let's put all this together to be able to compare better the evolution of this phenomena: